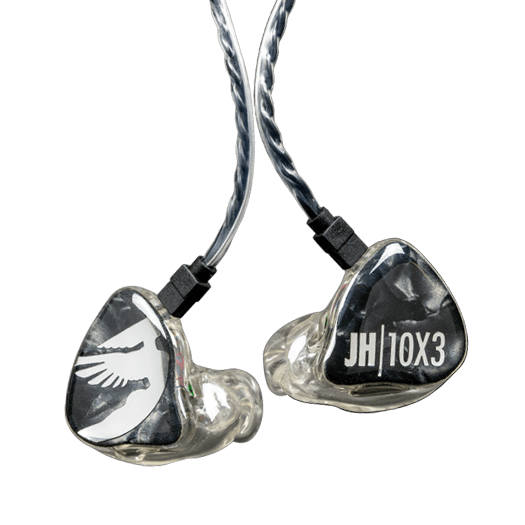 VERSATILITY AND ACCURACY
The 10X3 gives you 3-way versatility and accuracy without breaking the bank. They offer a sibilance-free treble that is smooth, refined, and detailed while packing an extensive soundstage and superb stereo imagery. These IEMs put you well into the realm of high-end portable audio and are powerful enough to embarrass many full-sized audio set-ups.
Estimated lead time 12-14 business days • 16-18 business days for Upgraded Shells
Rush services available - Email customerservice@jhaudio.com

FREQPHASE WAVEGUIDE
Freq|phase™ Technology creates the most phase accurate IEMs on the market by correcting misalignment caused by low, mid, and high frequencies traveling to your ear at different speeds.

2-PIN CABLE
Upgraded cable braiding and memory wire make this the most durable and comfortable 2-pin available. Our cables are made of high purity OFC 4N silver-plated litz wire.

3 DRIVER CONFIGURATION
Proprietary Precision-Balanced Armatures. The 10x3 featured a single low, single mid, and single high drivers.
FEATURES
Proprietary Precision-Balanced Armatures
3 Driver configuration: Single Low, Single Mid, Single High
Dual Bore with Freqphase time|phase WaveGuide
Premium 2-Pin Connector, Litz Wire High Purity OFC 4N Silver-Plated Cable
Input Connector: 1/8" (3.5mm), Gold-Plated
Integrated 3-Way Crossover
SPECS
Frequency Response: 10Hz to 17 kHz
Impedence: 18 Ω
Input Sensitivity: 119 Db @ 1mW
Noise Isolation: -26 Db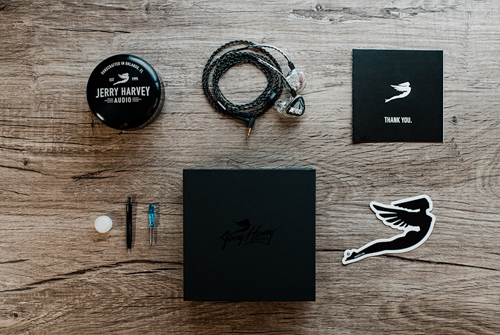 UNBOXED
JH10X3 Custom In-Ear Monitors
2-Pin Premium Litz Wire Cable
Aluminum Round Carrying Case
Wax Tool
Flygirl Sticker
Owner's Manual