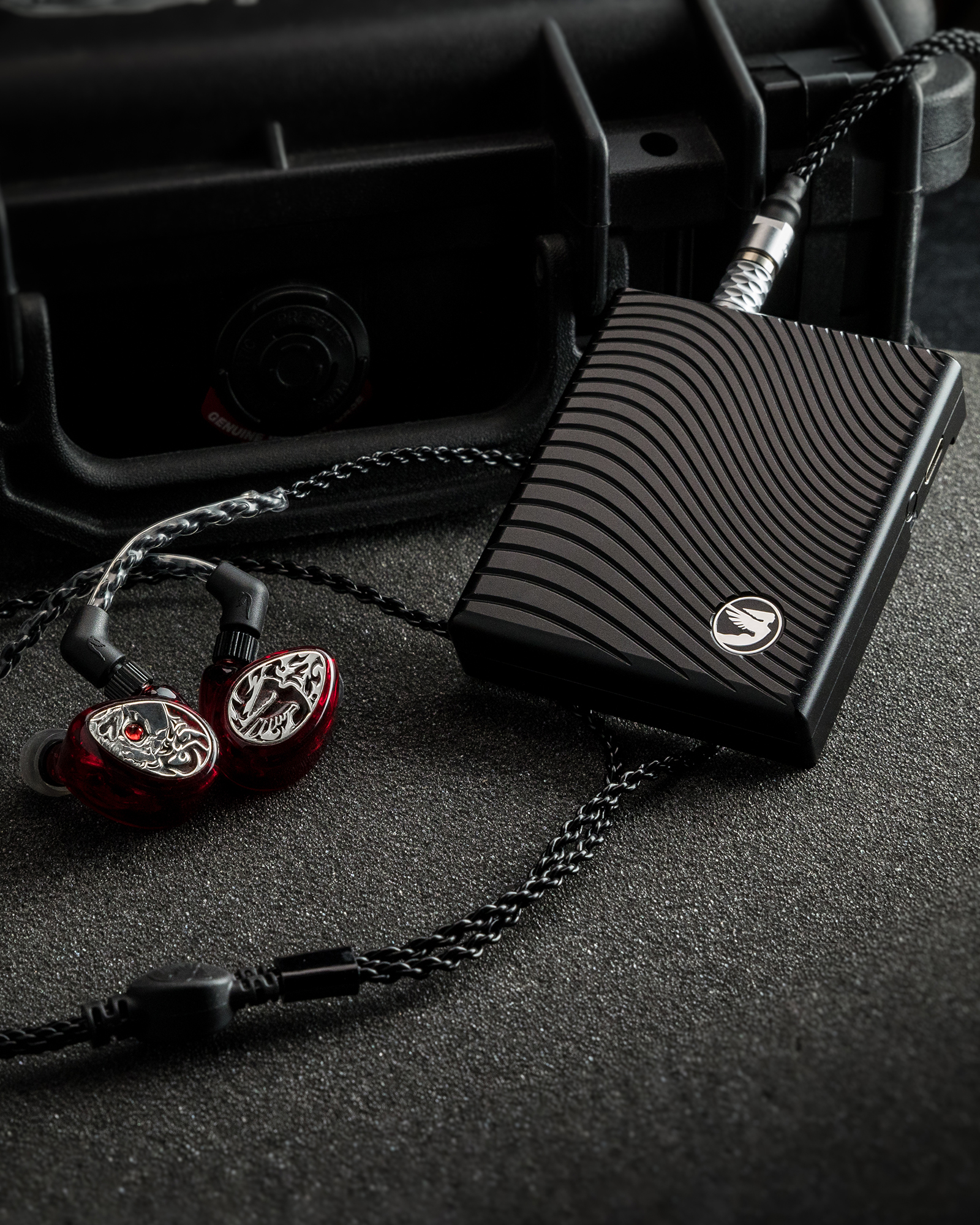 JH Audio is proud to introduce the Pearl™ Tri Amp Micro Speaker Management System, our latest innovation in audio technology. The system includes our PC-based Pearl Control Software and Pearl Loader program, which offer functions that allow users to precisely control gain, phase, time, and equalization of low, mid, and high frequencies of an in-ear monitor.
The Pearl system is available exclusively with a pair of JH Audio's new Ruby Universal™ in-ear monitors, pictured here with our signature Ruby Universal design (not customizable). When used together, the Pearl and Ruby will make it possible to reproduce any frequency response or audio signature.
Included with the system is our Pearl Control Software that allows the user to shape the audio and program the Pearl with user-defined, instantaneous presets. Multiple frequency response preset files will be included in the software; we will publish new preset files as they're developed. Using this software, users can set different levels for each ear, which is especially beneficial to those experiencing hearing loss. Additionally, the Pearl Loader function is used to instantly change the Pearl Processor from one frequency response setting to another via a USB-C cable.
This Pearl bundle is also available with a custom-fit Ruby option by special order. Contact your JH Audio sales representative or customerservice@jhaudio.com to learn more.
For more information, visit our YouTube channel.
This Pearl/Ruby bundle is immediately available for pre-order and will begin shipping the week of October 23.
Disclaimer: The Pearl Control Software and the Pearl Loader program are PC-based software.
PEARL SPECS
Latency: ACPX 0.62ms-0.82ms
Resolution: 96k
Input: Stereo level/Mute/Fader/Phase
Output: Stereo 3 way (Fader/Mute/Phase)
LF Band: 2 band EQ+LPF/HPF (12dB/octave), output delay up to 10ms
Mid band: 4 band EQ+LPF/HPF (12dB/octave), output delay up to 10ms
HF Band: 6 band EQ+HPF switchable 12/24dB octave, output delay up to 10ms
10-hour battery life
RUBY UNIVERSAL SPECS
Quad lows 8 Ω
Quad mids 8 Ω
Quad highs 8 Ω
10 Hz to 20 kHz, +/- 0.5 dB

UNBOXED
Pearl™ Tri Amp Micro Speaker Processor with attached belt clip
Ruby Universal™ in-ear monitors
Ruby-exclusive carbon fiber case
10-pin cable
USB-C cable
3.5mm adapter jumper cable
Pearl Control Software and Pearl Loader program (via USB drive)
Wax Tool
Owner's Manual Card